Samsung will soon release its first 5G smartphone of F series
Soon you'll witness the new range of Samsung's F42 5G in the market, know the features and price here.
What makes Samsung F42 5G unique from the rest of the smartphones?
On September 29, the Samsung Galaxy F42 5G will be arriving in India. The company has shared this information via Twitter. This phone will be available for purchase starting at 12 p.m. For this upcoming smartphone, Samsung has created a dedicated microsite. The company has also revealed some key features regarding the upcoming smartphone via this microsite.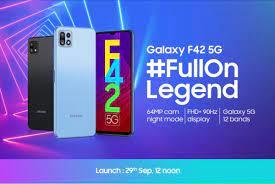 Following are the features present in the upcoming Samsung Galaxy F42 5G.
The smartphone comes with a 12 5G band support and a good battery life.
This smartphone will have a 90Hz refresh rate display, as well as 12 5G bands and a 5,000mAh battery. For your information, this will be the company's debut 5G smartphone in the Galaxy F range. N1 (2100), N3 (1800), N5 (850), N7 (2600), N8 (900), N20 (800), N28 (700), N66 (AWS-3), N38 (AWS-3) (2600 ), N40 (2300), N41 (2500), and N78 bands will be available.
Available in two different colours.
Based on the picture posted on the microsite, this smartphone comes in Black and Blue colour variants and can be purchased via Samsung's official website, Flipkart, and specific retail outlets will be selling the Galaxy F42 5G variant.
The smartphone is equipped with a strong processor and HD display.
The screen on this phone will feature full-HD + Infinity-V having a refresh rate of 90Hz. Talking about the processor the MediaTek Dimensity 700 processor is used to power this smartphone.
An ideal choice for photography enthusiasts.
For photography, this smartphone will have a triple camera system on the back. This system will feature a 64MP main camera. This new smartphone will also includes a 5,000mAh battery, according to the makers.
The smartphone offers great security.
This smartphone also featured a fingerprint sensor which is located on the power switch.
The Smartphone will come at a fair price.
It is expected that the price of the Samsung Galaxy F42 5G smartphone will be Rs 20,000 which is fair with such amazing features.