Quantum Energy and Bike Bazaar Join Hands for Quantum Bziness Pro Leasing, Driving Sustainable Mobility Solutions
With its segment-best range of up to 135 km on a single charge, this B2B electric scooter delivers unmatched efficiency and reliability for commercial deliveries
New Delhi, India 11 July 2023: Quantum Energy, a leading electric vehicle (EV) start-up specializing in the design, development, manufacturing, and sales of electric scooters, has announced its strategic tie-up with Bike Bazaar, an RBI-registered finance company that specialises in retail financing of Pre-Owned & New-vehicles. The agreement involves collaborating and powering a substantial number of Quantum Bziness Pro e-scooters, thereby facilitating eco-friendly transportation options and catering to the needs of last-mile deliveries.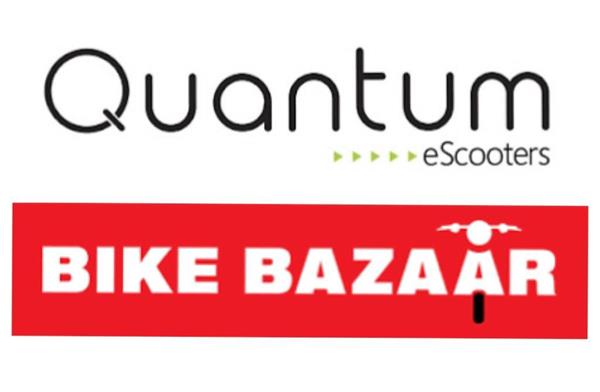 The Quantum Energy's Bziness Pro e-scooter sets a new standard in its category, providing an innovative and transformative means of transportation that is both speedy and environmentally friendly. With an impressive range of up to 135 km on a single charge, this e-scooter is equipped with a high-performance Lithium Iron Phosphate (LFP) battery, which comes with a warranty of 3 years or 90,000 km. Moreover, the Quantum Bziness Pro is packed with segment-leading features, including an inbuilt IOT tracker with an IP67 rated battery pack, Remote Lock-Unlock, Anti-Theft Alarm, USB Charger, Disc Brakes, LCD Display, and more.
Mr. Chakravarthi Chukkapalli, Managing Director of Quantum Energy Limited, said, "With this partnership, we would like to make last-mile connectivity greener. Quantum Energy's fleet is the smart choice for sustainable transportation. Through this partnership with Bike Bazaar, we aim to promote the adoption of electric vehicles for all kinds of deliveries. We are also working towards partnering with e-commerce and retail outlets for the use of electric vehicles in India and contribute to the country's efforts towards a durable and carbon-neutral future".
Karunakaran V, Joint MD and Co-Founder, Bike Bazaar Finance, said, "Bike Bazaar takes pride in associating with Quantum Energy for fastening the transition to electric mobility in last mile delivery segment. As a company dedicated to positively impacting the ESG space, we share a common vision with Quantum Energy towards a sustainable world. We are optimistic that our partnership will pave the way for new milestones in the electric two-wheeler industry and further the cause of clean energy in India.
About Quantum Energy:
Quantum Energy is an electric 2-wheeler manufacturing firm which is into the design, development and production of electric scooters. The company has a state-of-the-art R&D center and manufacturing facility in Hyderabad. Quantum Energy is backed by the Kusalava group, a firm that has been in the automotive business for the past 60 years with interests in auto-component manufacturing, automobile dealerships and auto-financing. With such a legacy, Quantum Energy's offering has a range of 2-wheelers in the consumer and cargo segment.
For more Info, please visit https://www.quantumenergy.in
Contact – support@quantumenergy.in, praveen@quantumenergy.in
About Bike Bazaar Finance: (WheelsEMI Pvt Ltd):
Bike Bazaar is a two wheeler lifecycle services platform providing accessible and affordable financing for New two wheelers, Electric two wheelers and pre-owned two wheelers, and a range of affordable solutions along the ownership lifecycle. The Company's core competency lies in superior understanding of the two-wheeler lifecycle, unique rural and pre-owned industry segment expertise, and pan-India relationships with original equipment manufacturers (OEMs), dealers, sub-dealers and lenders. It offers multiple innovative solutions like Direct Collection Model (DCM) for its rural & semi-urban customers & pre-owned two-wheeler financing for Urban customers. Bike Bazaar is rapidly increasing its focus in the electric mobility space and is eyeing both B2C & B2B segments offering easy financing, leasing & rental solutions. The Company is recently launched pilots in E-rickshaw & EV- cargo segments along with leading OEMs in this space.