Virtual Data Plane
The word "plane" has a number of uses in the English language, but it is used in virtualization to refer to a specific level or layer in an organization's IT architecture.
The virtual data plane stores data for later retrieval, and applies data services such as compression (reducing the size of files), replication (continuous copying of data), caching (storing temporarily for quick access), snapshots (images of a system at a particular point in time), deduplication (eliminating duplicate copies) and availability (the proportion of time that a system is working properly).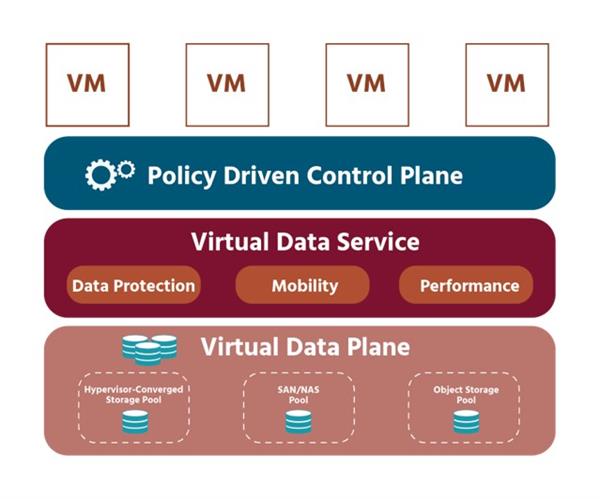 While data services are provided by a physical array or implemented in software, the virtual data plane abstracts the services and presents them to the policy-driven control plane (which we will speak about in the next section) for use. The virtual data plane also applies whatever policy has been selected to the objects in the virtual datastore.
In today's model, the data plane operates on rigid infrastructure-centric entities such as LUNs or storage volumes. In the VMware SDS model, the data plane is virtualized by abstracting the physical hardware resources and aggregating them into logical pools of capacity. These logical pools of capacity are known as virtual datastores, and they can be flexibly used and managed.
By making a virtual disk the fundamental unit of management for all storage operations in the virtual datastores, exact combinations of resources, and data services can be configured and independently-controlled for each virtual machine.
The virtual data plane in the VMware model is delivered through vSAN for X86 (i.e., industry-standard, "off-the-shelf") hyper-converged storage, and through vSphere virtual volumes for external storage SAN and NAS.